Newer posts are loading.

You are at the newest post.
Click here
to check if anything new just came in.
David Smith: Debilitating Inflation Is Like an Army of Termites Eating Away Your House
Well now, without further delay, let's get right to this week's exclusive interview.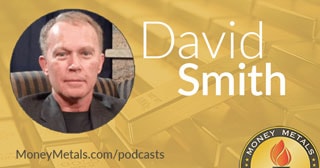 Mike Gleason: It is my privilege now to welcome back David Smith, Senior Analyst at The Morgan Report, and regular contributor to MoneyMetals.com.
David, thanks for joining us again, how are you?
David Smith: You bet, Mike. It's great to speak with you again.
Mike Gleason: Well David, we published an article you wrote on inflation this week on our MoneyMetals.com website, and it's really great, by the way, and I hope everyone listening will take a few minutes to read it, because the subject matter, that being inflation, is very timely.
Right now, metals are suffering because of a rally in the U.S. dollar. There's lots of talk on Wall Street about how well the dollar's performing over the past few weeks, but traders, of course, are focusing exclusively on the dollar's exchange rate with other world currencies. You and I know that isn't really what matters. What counts is not how many euros or yen the dollar will purchase, it's how much gasoline, or housing, or food it will buy. And the reality is that it buys less of those things every year. We have inflation regardless of whether you define the term as an increase in the money supply, or as an increase in the price of goods and services.
However, precious metals have fallen in recent weeks simply because the dollar is stronger in foreign exchange markets. The fact that the dollar buys more yen is trumping the fact that the dollar buys less oil. It's as if we have deflation but the truth is, inflation is actually positive and starting to accelerate. So, what gives here, and how long do you think it will be before Wall Street figures out what is really happening to the dollar's value, David?
David Smith: Well, Mike, I think a lot of it has to do with Wall Street looking at the exchange rate because they're asking themselves what effect will it have on the profitability of companies that do business overseas or that import things and it has a significant effect on them if there's a change in the dollar's relation vis a vis to the currencies.
But the more immediate effect happens to the rest of us because we start paying more with inflation for things that we buy and sell on an everyday basis. So we're in a different universe from Wall Street in that regard. I don't know about you, but I've noticed the price of services going up substantially. Some prices have stayed the same for several years at the grocery store, beyond just the normal seasonal fluctuations of produce that you might expect to be more like avocados certain time of the year.
But a lot of other things, too, that normally have been pretty stable seem to have a built-in upward bias and all that does is to take more and more purchasing power out of our pockets, yours and mine, and the people listening to this, and place them someplace else. So, it's kind of a subterranean type of thing that's going on but it's not to the good for any of us.
Mike Gleason: Yeah certainly, well put and obviously the markets seem to be focusing very much on what it does relative to those other currencies and not really what it's buying, like you said right there. I mean everyone can attest to the fact that things are getting more expensive. There's no doubt about that.
As you have written, inflation is a destructive force for most of us. The powers that be have done a masterful job of painting a degree of inflation as somehow healthy for the economy, but you spend a lot of time traveling in South America, as you mentioned in this week's article. So you've seen firsthand what is happening in places like Argentina and I guess the government there has given up talking about how wonderful it is that money buys less every year. Obviously nobody there is going to be buying that line of bull anymore.
In Venezuela, people are starving, and violence is on the rise. Talk a bit if you would about what a rampant inflation looks like on the ground. You recently took another trip to South America. Tell us what it's like when confidence in the money begins to fail.
Read/Listen to the podcast here: (
source
)