Newer posts are loading.

You are at the newest post.
Click here
to check if anything new just came in.
Well now, without further delay, let's get right to this week's exclusive interview.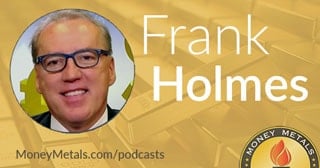 Mike Gleason: It is my privilege now to welcome in Frank Holmes, CEO and Chief Investment Officer at U.S. Global Investors. Mr. Holmes has received various honors over the years, including being named America's Best Fund Manager by the Mining Journal. He is also the co-author of the book The Gold Watcher: Demystifying Gold Investing, and is a regular guest on CNBC, Bloomberg, Fox Business, as well as right here on the Money Metals podcast.
Frank, welcome back and thanks for joining us again.
Frank Holmes: It's great to be with you.
Mike Gleason: Frank, it seems like escalating tariffs and trade tensions have been the major topic on Wall Street since early last spring. We continue to be a bit baffled by the market's reaction, however. The President has gone from posturing to serious action with another $200 billion imposed on China a couple of weeks ago. The equity markets aren't particularly fazed near as we can tell. It is yet to move the needle on the trade deficit at all, though it is still early, but it is starting to show up in prices. We've been buying heavy duty racks for our storage vault over the past few months, for instance, and on a recent batch which we just ordered yesterday, the price rose some 10% from what they just were a couple of months ago, and the reason we were given was that the manufacturer is having to pay more for imported steel. You've called these tariffs a tax, Frank, and that's exactly what it is. Do you think the rest of America will notice much higher prices any time soon?
Frank Holmes: Well, I think that the tariffs or the trade war is able to do what it is doing short-term because of the fiscal stimulus that took place last year with tax reform, and I think that that's why the market hasn't capitulated. Profits are still strong. We had a big run in small cap stocks, predominantly domestic stocks, and a small handful of big cap like Amazon in the markets, but there's no doubt that the trade and tariff war is going to impact… and we see it on steel prices such as if you're building a contemporary modern home today, you have to use more steel for the open space, and those prices, steel prices are up 35%. So you start to run these numbers through and you're seeing price inflation is going to come now with Amazon at going to $15 an hour, you're going to see the CPI number ticking up. That's what I really believe. If we also looked at the 1980 numbers and later on numbers for CPI calculations, inflation's running at 10%, so when they say it's 2.4 or 2.7, I find that really difficult (to believe).
I noticed in San Antonio, our avocados used to always come from Mexico and no longer, and the prices are up and the quality is down. So, I do see that there's some issues on this trade war, but I don't think it's over, the trade war. And I think it's going to get worse because there's a real strategy against China. In the renegotiated NAFTA agreement, which is over 1000 pages, there are some policy decisions there that Canada and Mexico cannot go into a special pact with China, otherwise that whole agreement is thrown out the door. And same thing with South Korea, Mexico, Japan, there's a real push by the administration to go after China. Now the positive part is that Trump and his administration want to have zero tariffs everywhere and let the best athlete win. And the issues with China is that they are double standards and lots of protectionism. So, that battle is not over. There is also the big concern that China is trying to undermine the currency and have an alternative currency and that is something that Mnuchin and Trump are very concerned about.
You wouldn't normally think when you have such a high interest rate differential. Today we're seeing two-year, five-year, ten-year government bonds all about the CPI number that's reported and when you look and compare to Japan at ten beeps for ten-year money versus 3.8. Germany, Europe is 60 basis points, there's something not right there and normally the dollar would actually be much, much higher. Gold would be under $1,000 and the fact that it's not is very constructive for the price of gold because any rollover in the dollar, in a slow down this economic engine, which I think is going to happen next quarter. By the end of this quarter we're going to get into what's called rebalancing our portfolios and I think that we're going to have some real issues there.
Continue reading: https://goo.gl/9JGxc9