Newer posts are loading.

You are at the newest post.
Click here
to check if anything new just came in.
April
20
2018
Jim Rickards Forecasts New Financial Crisis & Makes Prediction About Gold
Well now, without further delay, let's get right to this week's exclusive interview.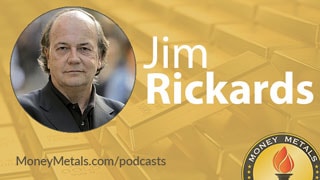 Mike Gleason: It is my great privilege now to be joined by James Rickards. Mr. Rickards is Editor of Strategic Intelligence, a monthly newsletter and Director of the James Rickards Project, an inquiry into the complex dynamics of geopolitics and global capital. He's also the author of several bestselling books including The Death of Money, Currency Wars, The New Case for Gold and The Road to Ruin. In addition to his achievements as a writer and author, Jim is also a portfolio manager, lawyer and renowned economic commentator, having been interviewed by CNBC, the BBC, Bloomberg, Fox News and CNN, just to name a few. And we're happy to have him back on the Money Metals Podcast.
Jim, thanks for coming on with us again today. We really appreciate your time as always and how are you?
Jim Rickards: I'm doing great Mike, great to be with you. Thank you.
Mike Gleason: Well Jim, I figure a good place to start here is with one of your most recent books. We want to get your take on the state of the world economy. In your book titled The Road to Ruin: The Global Elites' Secret Plan for the Next Financial Crisis, you make some very interesting comments. Now while the financial media is talking about booming stock markets and accelerating GDP growth, you aren't quite as optimistic. We both know that most of the growth we've seen in recent years has been built with huge amounts of central bank stimulus and the fundamental problems that drove the last financial crisis have hardly been resolved. In fact, you think the next financial catastrophe isn't too far away and many among the elite are getting ready for it. If you can, briefly lay out some of what you've been seeing.
Jim Rickards: Sure Mike, you touched on two different threads. One is, let's call it the short to intermediate term, which is how's the economy doing? What would the forecast be for the year ahead? What do I think about stocks and so forth? That's one part of the analysis, but the other one is a little bigger and a little deeper, which is what about another major financial crisis, a liquidity crisis, global financial panic and what would the response function be to that.
Let me separate. They're related because, I mean the point I always make is that there's a difference between a business cycle recession and a financial panic. They're two different things. They can go together, but they don't have to. For example, October 29, 1987, the Stock Market fell 22% in one day. In today's Dow terms that would be the equivalent of 5,000 Dow points, so we're at 26,000 or whatever, as we speak, a 22% drop would take it down about 5,000 points. You and I both know that if the Dow Jones fell 500 points that would be all anybody would hear about or talk about. Well, imagine 5,000 points. Well, that actually happened in percentage terms in October 1987. So, that's a financial panic, but there was no recession. The economy was fine and we pulled out of that in a couple of days. Actually after the panic, it wasn't such a bad time to buy and stocks rallied back. Then, for example in 1990, you had a normal business cycle recession. Unemployment went up. There were some defaults and all that, but there was no financial panic.
In 2008, you had both. You had a recession that began in 2007 and lasted until 2009 and you had a financial panic that reached a peak in September-October 2008 with Lehman and AIG, so they're separate things. They can run together. Let's separate them and talk about the business cycle. I'm not as optimistic on the economy right now. I know there's a lot of hoopla. We just had the big Trump Tax Bill and the Stock Market's reaching all time highs. I mean, I read the tape. I get all that, but there are a lot headwinds in this economy. There's good evidence that the Fed is over-tightening.
​Read/Listen to the full podcast (
here
) ​
February
15
2018
U.S. Public Debt Surges By $175 Billion In One Day
After the U.S. Government passed the new budget and debt increase, with the President's signature and blessing, happy days are here again. Or are they? As long as the U.S. Government can add debt, then the Global Financial and Economic Ponzi Scheme can continue a bit longer. However, the days of adding one Dollar of debt to increase the GDP by two-three Dollars are gone forever. Now, we are adding three-four Dollars of debt to create an additional Dollar in GDP. This monetary hocus-pocus isn't sustainable.
Well, it didn't take long for the U.S. Government to increase the total debt once the debt ceiling limit was lifted. As we can see in the table below from the treasurydirect.gov site, the U.S. public debt increased by a whopping $175 billion in just one day: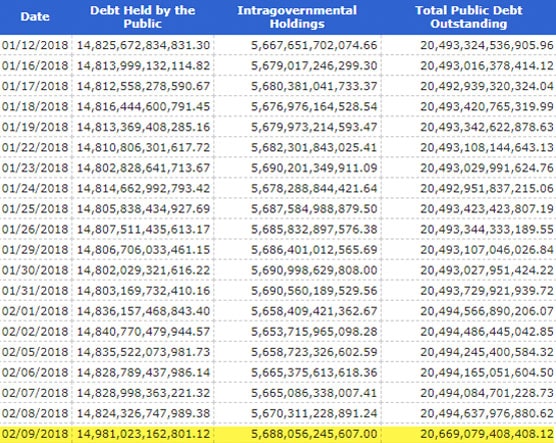 I gather it's true that Americans like to do everything… BIG. In the highlighted yellow part of the table, it shows that the total U.S. public debt outstanding increased from $20.49 trillion on Feb 8th to $20.69 trillion on Feb 9th. Again, that was a cool $175 billion increase in one day. Not bad. If the U.S. Government took that $175 billion and purchased the average median home price of roughly $250,000, they could have purchased nearly three-quarter of a million homes. Yes, in just one day. The actual figure would be 700,000 homes.
January
12
2018
World Debt Is Rising Nearly Three Times As Fast As Total Global Wealth
Some nasty dark clouds are forming on the financial horizon as total world debt is increasing nearly three times as fast as total global wealth. But, that's okay because no one cares about the debt, only the assets matter nowadays. You see, as long as debts are someone else's problem, we can add as much debt as we like… or so the market believes.
Now, you don't have to take my word for it that the market only focuses on the assets, this comes straight from the top echelons of the financial world. According to Credit Suisse Global Wealth Report 2017, total global wealth increased to a new record of $280 trillion in 2017. Here is Credit Suisse's summary of the Global Wealth 2017: The Year In Review:
According to the eighth edition of the Global Wealth Report, in the year to mid-2017, total global wealth rose at a rate of 6.4%, the fastest pace since 2012 and reached USD 280 trillion, a gain of USD 16.7 trillion. This reflected widespread gains in equity markets matched by similar rises in non-financial assets, which moved above the pre-crisis year 2007's level for the first time this year. Wealth growth also outpaced population growth, so that global mean wealth per adult grew by 4.9% and reached a new record high of USD 56,540 per adult.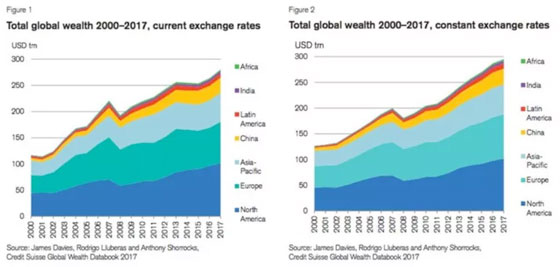 This year's report focuses in on Millennials and their wealth accumulation prospects. Overall the data point to a "Millennial disadvantage", comprising among others tighter mortgage rules, growing house prices, increased income inequality and lower income mobility, which holds back wealth accumulation by young workers and savers in many countries. However, bright spots remain, with a recent upsurge in the number of Forbes billionaires below the age of 30 and a more positive picture in China and other emerging markets.
There are a few items in the Credit Suisse's summary above that I would like to discuss. First, how did the world increase its global wealth at a rate of 6.4% in 2017 when world oil demand only increased 1.6%??
Could not load more posts
Maybe Soup is currently being updated? I'll try again automatically in a few seconds...
You've reached the end.