Newer posts are loading.

You are at the newest post.
Click here
to check if anything new just came in.
Gerald Celente: Middle East Wild Cards Could Bring Down Markets, Drive Up Gold
Well now, without further delay, let's get right to this week's exclusive interview.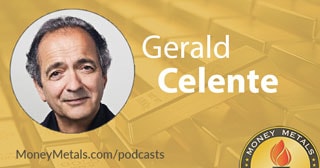 Mike Gleason: It is my privilege now to welcome Gerald Celente, publisher of the renowned Trends Journal. Mr. Celente is perhaps the most well-known trends forecaster in the world and it's always great to have him on with us.
Gerald, thanks for taking the time and welcome back.
Gerald Celente: Thanks for having me on.
Mike Gleason: Well, Gerald, to start off here, we still have the equities markets ripping and roaring and there is seemingly no news that can derail the train. So, as we head into the end of the year, what does your forecast show for the crowd on Wall Street? Is the party going to end anytime soon?
Gerald Celente: Well, as they go through with this tax deal, it's just going to bring more money to the bigger corporations and you saw what the corporations have done with the profits from the past, what do they do with them? They reinvested them into the stock market rather than building their companies and investing in capital improvements.
So, giving them more money will give them more stock buybacks. The more stock buybacks, the higher the market goes. I mean that's the reality of it. So, if the tax breaks go through the way they're being planned, we're going to see more stock buybacks, more cheap money to reinvest back into the markets.
Again, we're looking at a very small segment of the population that's really playing the markets. For example, only 10% of Americans are in the markets at the range that makes any difference, so that 10%, for example, that's playing, they have about in equity about $350,000 (on average). The rest of society that has money into it, the so called middle class, of those that have any money in it, and again the 10% own over 90%. For the rest of the society, they only have about $15,000 in equity.
So, the markets are just going to keep going up if the cheap money keeps existing. Again, that's going to also see what happens when they raise interest rates, which are about a 99% sure shot now, later in December. And if the cheap money flows stop, then the markets stop. It's as simple as that, but we don't think a 25 basis point increase is going to have much of an impact.
Mike Gleason: Clearly the world has a problem with crooked bankers and corrupt politicians. We talked about this a bit when we had you on back in August. The two aren't unrelated, of course. Bankers and politicians have a very long and dark history of collusion.
On one hand, if history is a guide, there isn't much reason to expect anyone will be held to account for their crimes. "They are too big to jail," as former Attorney General Eric Holder might say. On the other hand, we can't help but be a little bit hopeful. It looks to us like some of these crimes, such as the Uranium One deal, are getting harder to ignore.
What do you make of the recent news? Are you feeling any more optimistic about some of these crooks actually going to prison?
Gerald Celente: No, quite the opposite. Look at the new Fed chair that's coming in. He's already saying that the banking regulations in place now are too tough and tough enough. So, if under the current regulations nobody went to jail and they soften them, they could steal more, and get fined, and also accused of less crimes.
So, no, it's going in the opposite direction. Under the new administration, they're not draining the swamp, they're just filling the swamp with different swamp creatures. I mean look at the Trump White House. Who's running it? Mnuchin and Cohn on the financial end and those are both Goldman Sachs guys. It's just more of the same.
Mike Gleason: The rise of cryptocurrencies, Bitcoin in particular, is making waves in the precious metals markets. Some of the demand for gold and silver has been diverted to Bitcoin. People see it as another form of honest money and there is plenty of excitement over the huge price gains. Lots of people are wondering what the rise of Bitcoin might mean for precious metals over the longer term.
Now, our take is that Bitcoin offer hope as honest money and we are certainly fans of anything that can circumvent central bankers. Gold and silver, on the other hand, are proven stores of value with a track record extending back thousands of years and they are totally off the grid. Physical metals work with or without electricity or an internet connection and they can be used without leaving digital tracks behind.
What are your thoughts on the relationship between Bitcoin and bullion?
Read/Listen to the full podcast here: (source)