Newer posts are loading.

You are at the newest post.
Click here
to check if anything new just came in.
February
12
2019
Socialist Venezuela's economic collapse and hyperinflationary spiral serves as a warning for American investors. It's what can happen when a government spends perpetually beyond its means and refuses to face reality.
Despite a U.S. economy that appears relatively strong and stable on the surface, its foundation is beginning to crack under the pressure of a $22 trillion (and growing) debt load.
Both Republicans and Democrats are to blame for that. But rising pro-socialist sentiment within the Democrat Party could turn our current debt danger into a clear and present disaster.
We are potentially just one election away from heading down a road to economic ruin – one that could bring about a Third World-style hyperinflation in the United States.
In his State of the Union Address last week, President Donald Trump specifically warned Americans of the dangers of socialism. He noted that it is gaining traction within some quarters of American politics.
He concluded, "Tonight, we renew our resolve that America will never be a socialist country."
Tellingly, many Democrats refused to applaud in approval.
Bernie Sanders, who nearly won the Democrat presidential nomination in 2016 as an avowed socialist, scowled. His Senate colleague, Massachusetts ultra-liberal Ed Markey, sat stone faced with arms folded. Meanwhile, rising far-left star Alexandria Ocasio-Cortez tuned out Trump and plotted her next publicity stunt.
Cortez, Sanders, Markey, and 2020 presidential hopefuls including Cory Booker are pushing what they call a "Green New Deal."
This radical proposal would be the biggest expansion of government size and power in history.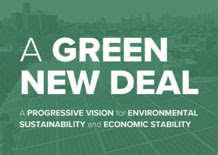 It would impose draconian, economically crippling restrictions on industry and transportation while authorizing trillions of dollars in new spending on everything from windmill farms, to universal college, to universal healthcare, to reparations for historically aggrieved groups, to "economic security" handouts to people who are "unable or unwilling to work."
"The Green New Deal Would Spend the U.S. Into Oblivion," blared a Bloomberg headline.
The article warned of "unrealistic and ruinously expensive economic proposals" contained in the Green New Deal. It would "take every big spending idea that has emerged on the political left in recent years and combine them into one large package deal, with little notion of how to pay for them all."
Check out the full article here: https://goo.gl/1HVzMY
April
09
2018
Two Mines Supply Half Of U.S. Silver Production & The Real Cost To Produce Silver
​Just two mines supply the United States with half of its silver production, and both are located in Alaska. It's quite amazing that Alaska now produces half of the silver for the U.S. when only 30 years ago total mine supply from the state was less than 50,000 oz per year. The silver produced in Alaska comes from the Greens Creek and Red Dog Mines. One is a primary silver mine and the other a zinc-lead base metal mine.
Even though Hecla's Greens Creek Mine is labeled as a primary silver mine, 56% of its revenues come from its gold, zinc, and lead metal sales. However, Teck Resources, that runs the Red Dog Mine doesn't even list its silver production in its financial reports. Because Red Dog produces one heck of a lot of zinc and lead, their silver production doesn't amount to much in the way of revenues.
For example, the Red Dog Mine produced 542,000 metric tons (1.1 billion pounds) of zinc and 110,000 metric tons (222 million pounds) of lead, while its estimated silver production was 6.6 million oz (Moz). According to Teck's 2017 Annual Report, total revenues from the Red Dog Mine were $1.75 billion. With the estimated silver price of $17 in 2017, total revenues from 6.6 Moz of silver were $112 million, or just 6% of the total.
In addition, Hecla's Greens Creek Mine in Alaska produced 8.4 Moz of silver this year, down from 9.2 Moz in 2016. As I mentioned, the Greens Creek Mine also generated a lot of gold, zinc, and lead, equaling $182 million of the total revenues of $326 million (including treatment costs).
The USGS just came out with their final Silver Mineral Industry Survey for 2017, reporting that the U.S. produced 33 million oz (Moz), down from 37 Moz the previous year. U.S. silver production declined due to the union strike and the shut down of Hecla's Lucky Friday Mine. As we can see, Greens Creek and Red Dog accounted for 15 Moz of the total 33 Moz of U.S. silver production: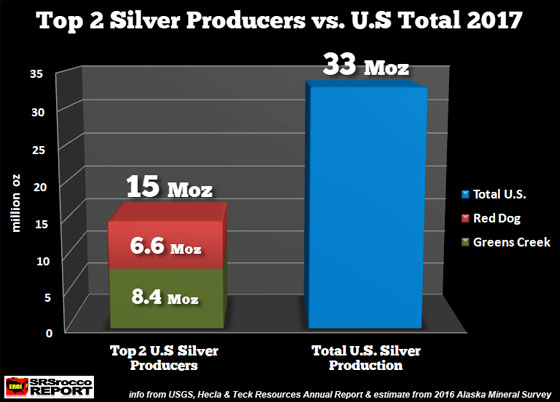 While Greens Creek and Red Dog supplied nearly half of U.S. silver production last year, the next two largest mines provided 21% of the total. Coeur's Rochester Mine in Nevada produced 4.7 Moz of silver while the Bingham Canyon Mine, the country's largest copper mine, supplied 2.2 Moz. Almost 7 Moz of silver came from these two mines alone.
​Continue to the full article (
source
) ​
January
25
2018
The Market Underestimates The Tremendous Energy Consumption By The Gold Mining Industry
While the gold mining industry reports energy as only 15-20% of its total production costs, the total amount consumed by the industry is much higher. The market underestimates the amount of energy consumed by the gold mining industry because of the way it is listed in their financial statements. Thus, it takes a great deal more energy to produce gold than the market realizes.
Due to the complex supply chain system that we depend upon, most of the energy that is consumed in the production of goods, services, materials, metals, and commodities is hidden from plain sight.For example, a gold mining company will list "Tire Costs" in their Financial and Sustainability Reports. However, even though a tire cost is listed as a material cost, the majority of a tire's production cost comes from burning energy… in all forms and in all stages.
For example, Barrick Gold consumed nearly 25,000 tons of tires in 2013 on its mining operations. According to the Rubber Manufacturing Association, it takes roughly 7 gallons of oil to produce a standard car tire. And from the article, This Is What A $42,500 Tire Looks Like, stated the following: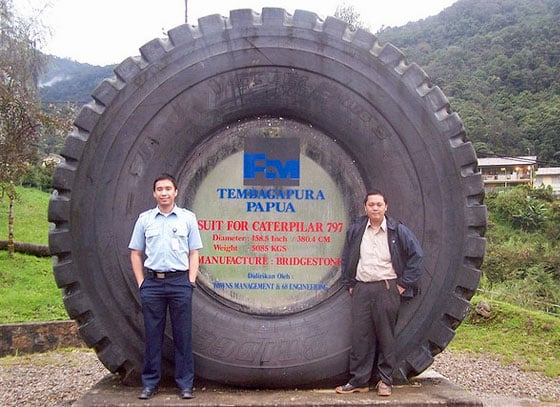 One of the many unique aspects of the Cat 797 are its tires: More than 13-feet-tall, weighing 11,860 pounds, each Michelin or Bridgestone 59/80R63 XDR tire costs $42,500 and that's when you buy the full set of six required by each $5.5 million truck.
Contains nearly 2,000 pounds of steel, enough to build two small cars and enough rubber to make 600 tires to put on them.
If the Rubber Manufacturing Association says it takes 7 gallons of oil to make one standard tire, and this article claims that the 13-feet-tall tire used by the Caterpillar 797 haul truck contains enough rubber to make 600 tires, then it takes 4,200 gallons of oil to make one of these giant tires. If we take a more conservative estimation of a smaller mining truck tire, it would likely consume at least 2,000 gallons or oil, or nearly 50 barrels of oil.
​Continue reading.. (
source
) 
​
Could not load more posts
Maybe Soup is currently being updated? I'll try again automatically in a few seconds...
You've reached the end.